Good Monday evening, everyone!
I'm joining Laura of
The Ironstone Nest
today for a "My Favorite Things" link party.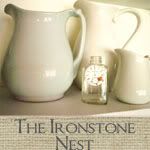 As the name implies, participants post a list of their favorite things, be they favorite home decor items, DIY tools, books, crafts, beauty products, recipes, or anything else. The party is a fun way to get to know other bloggers and to perhaps find some new "must-haves."
Here's my decidedly random list of favorite things, most of which don't apply to topics I normally write about here at Carolina Country Living. :)
Favorites for summer-ready feet, hands, and nails:
Foot File - keep it in the shower, use it daily, and your feet will thank you! (Found mine at Walmart for a couple bucks.)
Sally Hansen Instant Cuticle Remover...also available at Walmart - does wonders to clean up cuticle overgrowth on both toes and fingers! Though the bottle says to leave the product on for only 10-30 seconds, I find my nails and skin aren't bothered by applications of 5+ minutes, which seem most effective for really cleaning up cuticles.
Cuticle pushers - use these with the cuticle remover to gently scrape away the dead skin.
Buffing block - so great for finger and toe nails, especially if you go au naturel much of the time - I smooth and buff my nails after trimming them and it gives a subtle, polished appearance




ELF's Nourishing Cuticle Pen - this little pen costs only $1!! And it's handy to keep in your purse or make-up bag for swiping onto both fingernails and toenails. The almond oil blend truly does moisturize cuticles!
Favorite movie I found in the $5 bin:
This quirky British comedy, shot in the most beautiful English countryside I've ever seen, now has me wanting to find a farm on which I can keep my chickens, raise cows, cook delicious meals, and host a writer's colony.
Favorite summertime beverage:
Celestial Seasonings Black Cherry Berry Tea - makes the most delicious iced tea when lightly sweetened.
Favorite way to listen to music:
Spotify - I don't have an iPod or any other MP3 player, so when I'm at home, I use the free version of Spotify to listen to all my favorite music. You simply download the app to your computer, then build and save playlists to your heart's content. If you do choose to upgrade to Premium, you can listen to music on your smartphone, offline, and more.
Favorite skin care item:
Devita 17% Vitamin C Serum - I'm in my 30s now and my skin is definitely in transition. Stabilized Vitamin C is a powerful antioxidant that protects the skin, as well as helps to brighten and firm. This effective serum, intended for the face, is comprised of mostly natural and organic ingredients and can be found for less than $25. (I also use and highly recommend Devita's High Performance Glycolic Acid Blend and Optimal Rejuvenation DMAE & Alpha Lipoic Acid.)
Favorite recently-discovered-TV-program-on-DVD:
My friend Heather recommended this series to me when we were talking about our collective disappointment over having to wait until 2013 for season three of Downton Abbey. Lark Rise to Candleford has certainly filled that British-costume-drama-void in my life! I finished season one of this 4-season BBC series last month and love the look into 19th century rural and town life in England. The characters and setting are utterly charming--and Brendan Coyle (Mr. Bates from Downton Abbey) is one of the main characters!
NYC Liquid Lipshine in Nude York City - one of the most versatile lip glosses I've ever had. Less than $3 a tube and complements all skin tones.
Favorite coffee addition:
For a treat you can't beat, add the simple, but decadent, combination of evaporated milk and sweetened condensed milk in either hot or iced coffee. Click here to be taken to an excellent iced coffee recipe that uses this creamy concoction.
Favorite children's book to read and re-read:
Miss Rumphius was published 30 years ago, but I only read this delightful book for the first time last year when my son brought it home from preschool. The story of Miss Alice Rumphius touches me on many levels as she grows up, works in a library, travels the world, then settles down in a cottage by the sea, and seeks to make the world a more beautiful place with her lupines. I pretty much want to be Miss Rumphius.
Favorite candy:
These morsels--found at the checkout of the local Hobby Lobby--supplanted my 20-year favorite candy, Hot Tamales, when I found them this year.
Favorite perfume:
Day-to-day, I wear patchouli essential oil and rose fragrance oil dabbed on my wrists and neck. However, for special occasions, or when I just want to feel ultra-feminine, I adore Tokyo Milk's Waltz. It smells like a Southern summer evening with heady notes of linden, honeyed rose, wisteria and white musk.
See? Told you it was a rather random list of favorites!
The party is open through Friday, so please
join in the fun
. I'd love to read about your favorite things!
-Erin