.................................................
Well, hello there! I slipped out of town last week for a trip to Kentucky with a couple friends to attend the Breeders' Cup at Churchill Downs in Louisville, and to spend some time in the Lexington area visiting horse farms.
When I returned home earlier this week, I was greeted by two surprises...
My husband and brother-in-law bought this tom turkey while I was away...and, yes...he's going to be Thanksgiving dinner. :(
The second surprise came later when I checked my blog email account: I was stunned to learn that I won
The DIY Club's 31 Days of Painting Contest
! With nearly 100 seriously outstanding entries, I figured there was no chance I'd make it to the top 10, much less win the grand prize of two free gallons of paint from Dutch Boy. Thank you DIY Club and Dutch Boy!
My winning entry was the cane back living room set I painted and then had reupholstered in drop cloths for my English-inspired reading nook. I shared with you guys
the before and after photos earlier this year
, but here's a quick refresher.
And with fresh paint:
However, when I posted the after pics, I still had many more plans for this space. Since this room is now finished, it's the next stop on the Carolina Country Living home tour!
This loft is just 8 feet wide and runs 15 feet long, and it overlooks the living room and dining room below.
I imagine when my son gets older, this will be his space as it's adjacent to his bedroom. But for now, I've co-opted it and have tried to inject a bit of vintage English country flair, inspired mostly by Cath Kidston fabrics.
Since finishing the furniture set, which was an auction find, I polished the room by white-washing the horizontal tongue-and-groove boards on the back wall with Minwax's Pickling Stain.
Envelope-style pillow covers made with Cath Kidston fabrics found on Etsy adorn the sofa and side chairs. The larger pillow is covered in Provence Rose in Light Blue. The smaller pillow is covered in Summer Blossom in Light Blue.
This darling little pillow is a new arrival courtesy of Etsy shop
Cornflower Creations
. The aqua ticking, hint of red gingham and the ditsy floral spiced up with the polka dots made me melt! After seeing this pillow, I think I need to work more polka-dotted fabrics into this space. :)
In addition to all the floral pillows, there are three linen pillows on the sofa. Two round ones with a button detail hide behind the blue floral Cath Kidston pillows below. And a bolster that was recovered in linen by my upholsterer sits in between.
A pair of gorgeous yellow French Provincial tables from Spruce Antiques are a fun, colorful counterpart to the subtle hues of the cream and grey-painted furniture and drop cloth cushions. They pick up the hints of yellow in the Cath Kidston pillows and further brighten the space. The vintage hooked rug is a neutral backdrop to this sassy table.
Simple curtains sewn from fabric found at Hancock Fabrics dress the four windows. I have no idea the manufacturer of this semi-sheer, quilting fabric, but it reminded me a little bit of the linen and faded floral fabrics made famous by Cabbages & Roses, another iconic English company.
For a romantic but frugal touch, the fabric panels were hung on $2 tension rods, then gathered, balloon style, and tied up with ivory grosgrain ribbon.
In between the windows, over the sofa, hangs a scrap of Cath Kidston stationery in an IKEA frame repainted with Annie Sloan Chalk Paint in Duck Egg.
The floor lamp was a purchase made by my husband in his bachelor days. A quick coat of white spray paint on the base, and white pom-pom fringe hot glued to the beige shade, spiffed it up in a whimsical kind of way.
Milk glass adds to the vintage feel of the room. Here I cut a circle of fabric from Lecien's Flower Sugar line to provide a little more contrast between the white glass and the tinned candle, while adding another dose of this happy shade of yellow.
This wood tray was a thrift store find that I spray painted in Krylon's Cornflower. I like to keep my British home magazines here, since it only seems fitting!
The non-matching chair in the room is a slipper chair that came from my childhood bedroom. Reupholstered in Waverly's Rose Sonata in Robin's Egg, and a coat of paint added to it's turned wooden legs (capped in casters!), I think it adds an element of older English style.
Bright flowers--in this case, dried strawflowers--look sharp on a yellow table.
The only thing missing from this picture is me, stretched out on the sofa with a book in hand! :)
Thanks for coming along for the latest stop of the house tour. We'll continue with the kitchen next week!
Hope you're having a great weekend,
Erin
Sharing at:
Restored It Wednesday at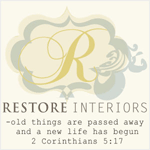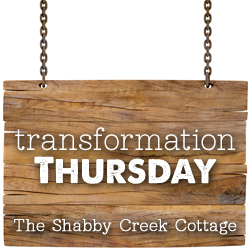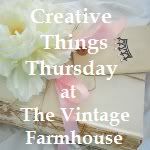 Feathered Nest Friday at