Have you heard about The Twice Remembered Cottage's 5th Annual Cottage Charm Giveaway?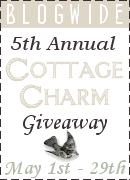 From The Twice Remembered Cottage:
This is a multi-blog, month long event beginning Saturday, May 1st where bloggers give away on their blogs items they feel exhibit "Cottage Charm".

Anyone can join at any point in May before the 29th. On May 29th, all participating bloggers will announce their winners and post it to their blogs.

An ongoing list of ALL the giveaways and participating bloggers is maintained...at Twice Remembered... The list grows and grows the whole month of May as bloggers add their Cottage Charm Giveaway to their blogs.
What a cool concept!
Since Carolina Country Living recently passed its six-month mark and has more than 130 lovely people subscribing (so Feedburner tells me), I thought it was high time to have a giveaway here to say THANK YOU to all of you!
And I'm doing so by participating in the Cottage Charm Giveaway.
Though Carolina Country Living isn't a "cottage blog" per se, I do like to think I live and write about the cottage mentality, as defined so well by
Jami at An Oregon Cottage
:
A cottage can be anywhere or anything (condo, ranch, farmhouse) as long as you have a "cottage mentality" which puts

people above things

, celebrates

imperfections

, embraces

simplicity

, and finds

joy

in everyday life.
So, without further ado, here are the country cottage-inspired items for Carolina Country Living's first-ever giveaway.
At Home With Country: Bringing the Comforts of Country Home by Christina Strutt
Christina is the founder of the iconic British textiles, homewares and clothing company, Cabbages & Roses. She's written several books and this is her newest.
With a forward by Tricia Foley, this book showcases several British and American cottages and country homes with that special Cabbages & Roses touch. This book is utter eye candy, I tell you!
A homemade candle, made by moi, a.k.a. Harmony Farm Candles
This all-natural soy wax candle is dye-free, burns cleanly (i.e. no soot!), throws its scent wonderfully and comes in a vintage-style 8 oz. jelly jar with a vintage zinc lid. I have a personal affinity for clean and floral fragrances and love to burn candles in my house frequently. When you can't have a real bouquet of heavenly-smelling flowers nearby, or it's not possible to throw open the windows for some fresh air, I think burning a candle is the next best thing.
The winner may choose from the following scents:
Cotton Blossom, English Garden, Green Tea & Lemongrass, Honeysuckle Jasmine, Jasmine, Lavender, Lilac, Lily of the Valley, Ocean Breeze, Rose, Spring Meadow
or
Violet
.
Though it's perfectly safe to burn the candle directly on a table or counter, I like to set mine on pretty little saucers. That's why I'm also giving away this English transferware saucer. Marked Royal Warwick, it features a pastoral scene of a thatched cottage (and makes me pine for the chance to actually visit a real English cottage...)
The jelly jar fits perfectly into the saucer's indentation and adds a splash of fresh color.
A cottage-inspired giveaway would be incomplete without a textile element, in my opinion. This adorable cotton canvas tote bag from Moda features a whimsical cherries and blueberries pattern and I can't think of a better springtime bag! It's just the right size to tuck a book into, to use as a casual purse for antiquing, or to put a few groceries in. Tucked in the front pocket is a white, vintage hemstitched linen napkin. I could easily see this linen being turned into a sachet, or left as is and set under a vase of flowers or centerpiece, don't you?
Oh, what just landed on the table? :)
If you've been reading Carolina Country Living for awhile, you may remember the
Lovebirds Tutorial
from earlier in the year. I made quite a few of these birds and this is one of them. Though this originated as a Valentine's Day craft, it turns out these birds are versatile and look great sitting out during any season. And, after all, who doesn't want to
'put a bird on it'
?
There you have it, Carolina Country Living's first giveaway. I'm so excited!!
Are you ready to enter yet? It's simple to do and you have FOUR opportunities to get your name in the proverbial hat:
1. Leave a comment below telling me your favorite item in this giveaway.
2. Become a follower of Carolina Country Living and either subscribe via email or in a reader (see the sidebar.) Leave a comment letting me know you've done this. If you're already a follower, you certainly get credit for being one; just comment below.
3. Blog, Tweet or Facebook about Carolina Country Living's giveaway. I don't use Twitter or Facebook myself, but if you feel moved to tell others about this giveaway through your blog or through either of these social media sites, link back to this post and then let me know you've done so by leaving a comment.
4.
Visit all or some of the other giveaways listed at Twice Remembered Cottage
. Last year more than 60 blogs participated, so there are lots of other fantastic giveaways happening. Once you've checked out the other giveaways (and hopefully entered a few!), leave a comment for an additional entry.
A few more notes:
You do not have to have your own blog to enter the giveaway. Just be sure to leave your email address in your comment(s) so I can contact you if you're the lucky winner!
This giveaway is open to those living in the U.S. *and* overseas. I don't want to exclude any of the dear readers in Europe and elsewhere, so please don't hesitate to enter if you're outside the United States. International entries welcome! :)
Entries will be taken through midnight EDT on May 28th. On the morning of the 29th, I will use random.org to choose the winner and announce the lucky person here at Carolina Country Living!
Thank you to everyone who reads and visits Carolina Country Living. This giveaway is to return all the bloggy love you've given me the past six months.
All the best and good luck!
Erin